About Sacred Scotland
Sacred Scotland, the website of Scotland's Churches Scheme, opens the door to Scotland's story by exploring living traditions of faith across the country.
The site is a starting point to access information on Scotland's churches of all denominations and a starting point for your special journeys. You can be assured of a warm welcome when you arrive, not as strangers but as pilgrims and honoured guests. Read more
2011 Regional Guides Now Available
The Regional Guides for Argyll & the Clyde; Perthshire and Tay Valley; and Highlands & Islands are now available. More...
Explore Sacred Scotland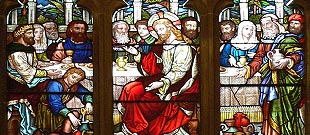 Find out how you can use this website to find the types of churches you are interested in.
Search for churches based on their location, denomination, period of construction and people associated with the churches.
Explore Churches in Scotland >
Publications
Scotland's Churches Scheme publishes various publications available to buy or download for free.
Featured Publication
How To Welcome Visitors To Your Church
The purpose of this leaflet is to offer practical help to any church wishing to improve its welcome to visitors or to review its arrangements for opening the building and organising such a welcome.By offering simple, practical guidelines, SCS hopes to suggest steps you can take to ensure that visitors do feel welcome and that they enjoy the experience of exploring your church. Much of the advice offered is straightforward and can be implemented quickly and at virtually no cost.
Featured Church
St Andrew's Parish Church, Carluke
Carluke




The original church was replaced by the present building in 1799 to designs by Henry Bell (of the steamship 'Comet' fame). The tower of the old church has been retained as a monument in its original...