Muckhart Parish Church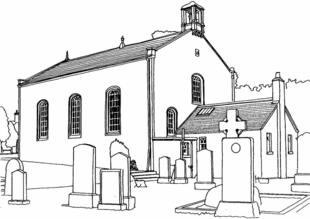 Denomination:
Church of Scotland

OS Reference:
NO001010
Address:
8 Kirk hill, Pool of Muckhart,
FK14 7JQ
Local Authority:
Clackmannan
Website:
Listing:
B
Directions to your Church
North side of A91
Location of Church
Nearby Churches
2.9 miles
3 miles
3.2 miles
5.5 miles
5.6 miles
Contact this Church
Church Overview
A commodious church of 1838. Stained slass windows removed to Fossoway Church, Crook of Devon. Various plaques. Large grave stone on east wall of the church for the Christie family, Cowden. Nearby stone to Matsui, Japanese gardener to Miss Ella Christie.
Services
Sunday: 9.45am
Opening Arrangements
Open daily
Linked Churches
Dollar Parish Church, Glendevon Parish Church
Disclaimer
The information about churches in Scotland's Churches Scheme has been provided by the congregations or taken from the Historic Scotland list and published sources, in particular, the Buildings of Scotland volumes and the RIAS Illustrated Architectural Guides. The information is not authoritative; please contact us to let us know of any errors or omissions.