Lundie Church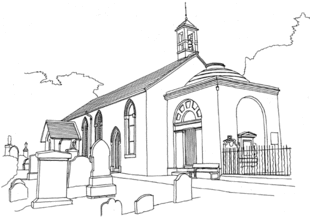 Also Known As:
St Laurence
Denomination:
Church of Scotland

OS Reference:
NO291366
Address:
Local Authority:
Angus
Listing:
A
Location of Church
Nearby Churches
2.8 miles
3.3 miles
3.4 miles
3.5 miles
3.6 miles
Contact this Church
Church Overview
Belonging to the Priory of St Andrews, the medieval church was dedicated to St Laurence. The church was partially rebuilt 1846, then renovated by Thomas Saunders Robertson 1892, including addition of porch and new bellcote, the apse was removed and the neo-classical Duncan Mausoleum erected, Robert Mylne, dated 1789 (now converted to vestry). Framed texts from the Psalms and Lord's Prayer were affixed in 1892. A stained glass window depicting St John looks south with a War Memorial on the north wall. The Reformer, Paul Methven, administered the Sacrament in 1558.
Services
Sunday: 9.00am
Opening Arrangements
Open by arrangement
Linked Churches
Muirhead Church, St Marnock's Church, Fowlis Easter, Liff Church
Disclaimer
The information about churches in Scotland's Churches Scheme has been provided by the congregations or taken from the Historic Scotland list and published sources, in particular, the Buildings of Scotland volumes and the RIAS Illustrated Architectural Guides. The information is not authoritative; please contact us to let us know of any errors or omissions.